You can use a dental credit card for dental implants. Yet, most providers require a very good credit score.
Dental loans are unsecured personal loans. Home Equity Loans and Lines of Credit (HELOC) offer better terms than personal loans.
Dental payment plans can be tailored to the type of work you're having done. You can also use a Flexible Spending Account (FSA).

Don't let the cost of a great smile hold you back. Join over 100,000 patients who trust Authority Dental and find affordable dental implant dentists in your city.
Do you need financing for dental implants? Here's everything you need to know.
Dental credit card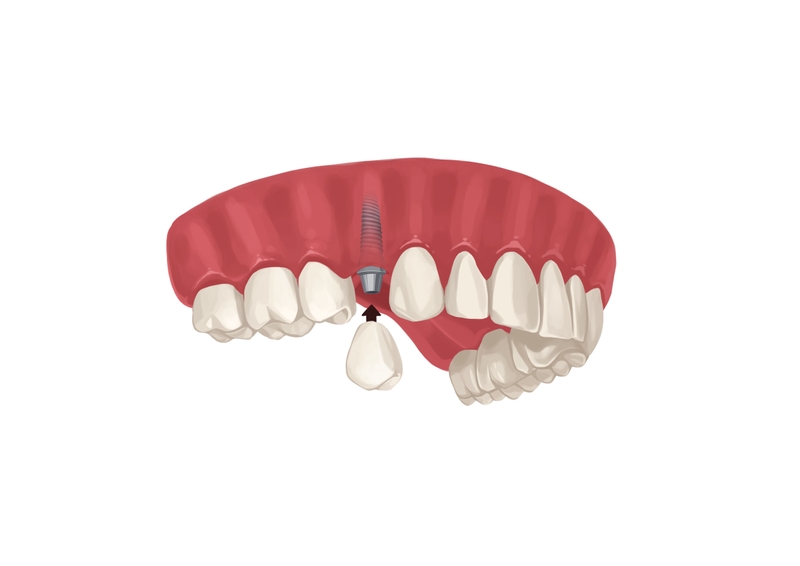 Many providers are enrolled in a medical credit card program designated to healthcare specifically. Patients can apply for a medical credit card at the dentist's office or online. If you choose to do the latter, make sure your doctor will accept this form of payment beforehand.
You will receive a special dental credit card that is only to be used for such needs. Medical credit cards are paid off as if they were regular ones.
Most providers require a good or even very good credit score. Some credit cards are only issued to those over 18, especially if you are applying online.
Often offer 0% APR during an initial, promotional period

Interest-free credit or preferable terms

Manageable repayment schedules
Deferred interest promotions can get very expensive if you miss the pay-by date

You will likely need a very good credit score

Your dentist's office needs to accept this form of payment

Some providers have been accused of predatory lending so you must read the fine print carefully
If you find an offer with 0% APR on a medical credit card, it is a good option to go with. Remember, however, that meeting the repayment deadline is critical here.

After a promotional period, medical credit card interest rates are likely to be very steep, higher than with regular credit cards. If you don't manage to pay that off in time, you will take a big hit to your credit score.
Otherwise, just use a regular credit card. The interest rates are fixed and it will be accepted in every office.
Dental loans
Medical loans are one of the more popular dental financing options. They come in the form of unsecured personal loans. They are most often orchestrated by a third party and dedicated to healthcare.
Dental loans for implants or dentures can be found online and at local lending institutions. The payoff period is usually 3 years or longer. It is likely that only a soft inquiry will be done, which means your credit score won't be affected at this stage.
There are no strict guidelines as to who can apply. But if you have bad credit you may need someone to co-sign it with you.
Dental finance for bad credit

Soft inquiries don't affect your credit score

You can often receive the money the day you're approved
High interest rates

Rates can rise steeply after an initial period

Analyzing fine print is essential

You may have to find someone to co-sign the loan
Dental implant loans are unsecured personal loans. Unsecured means you don't put up collateral such as valuable items or real estate, as opposed to secured personal loans.
Home Equity Loans and Lines of Credit (HELOC)
A home equity loan or a home equity line of credit (HELOC) puts up your property as collateral. This is a second mortgage.
HELOC means you can borrow the maximum amount of what your property is worth, minus what you owe on your mortgage. The interest rates are typically a lot better than with other types of loans, around 4%-5%.
The problem is that if your home's value changes due to the housing market, the rates can change. This could be a good thing, however. You can cash-out refinance if your home has appreciated in value.
To apply for HELOC you must be a homeowner with a relatively good credit score. You can set up a meeting with a representative of a lending institution to learn how to pay for dental implants this way.
Better rates than personal loans

Often tax-deductible
Unstable housing market can depreciate the value of your property

You are putting up your house as collateral

Credit score should be at least good
Dental payment plans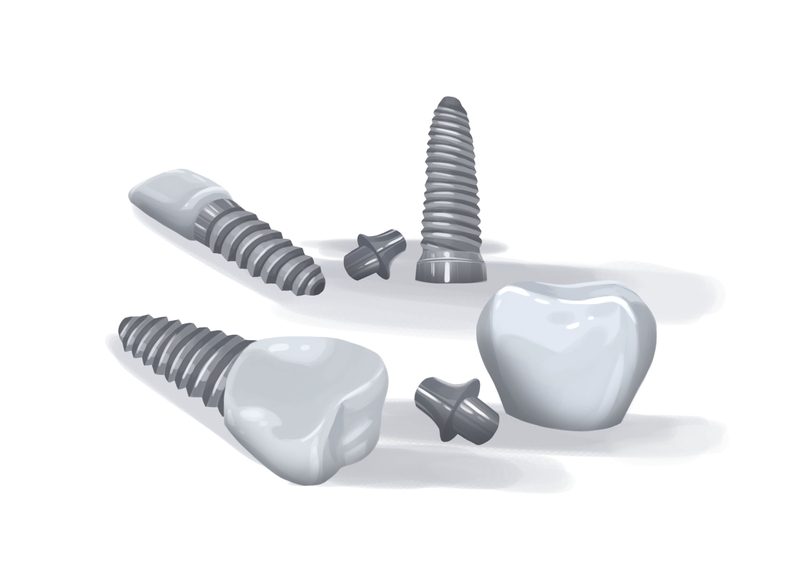 Many practices offer their patients in-house payment plans. This financing option allows you to spread the cost of dental implants over a period of time, typically a few months. You go in, have your procedure, and pay it off over time.
Dental payments plans can be catered to the kind of work you're having done, especially if the process, like with dental implants, takes a long time. Since this form of financing is in-house, you can expect beneficial terms. The financing may even be interest-free.
Eligibility for dentistry payment plans is determined by dental practices. There's a good chance you can find information on their website. Otherwise, your dentist might inform you about forms of payment while setting up a treatment plan.
Make sure to find a local dentist near you to avoid unnecessary travel costs and enjoy the maximum benefits of your dental plan.
The practice might conduct a soft inquiry into your credit score.
Flexibility

Low or even 0% interest rates

Soft inquiries don't affect your credit score
You might have to have all work done in one office
You can also look into special offers from your bank or credit union, as many are lowering rates to assist people who are dealing with the financial consequences of the pandemic.
Flexible Spending Account
A Flexible Spending Account is a benefit that comes in a company's insurance package. You can sign up through your employer. The employee decides how much is to be deducted from the pay and transferred into that account. It is generally dedicated to healthcare costs.
You can write a check or use a debit card that your insurance provider sends you. The amount that is transferred from your pay is before taxes. This means that you end up keeping more money.
Every policy is different. The best way to learn how you can use FSA funds is to contact your insurance provider. You will typically have a period of time (usually the calendar year) during which funds can be used. If that time elapses, you lose the money for that period.
Money from your FSA has to be spent on things that are medically necessary. If the reason for getting implants is purely cosmetic, this option might not work out.
To apply, patients must be insured and have a Flexible Spending Account through their employment.
Money dedicated to healthcare is tax-free

Tax-deductible
$2,700 per year limit

Dental work must be finished by the end of the year use-it-or lose-it date
Health Saving Account
The biggest difference between FSA and HSA is that the latter allows rollover and transfer between employers. Rollover means that the funds are still available to use after the new year. Money from your Health Savings Account can also go with you if you change your place of employment.
Both accounts may be great options for financing dental implants with bad credit. They can only be used for qualified products and services, however. Check with your HR department is it possible for you to pay for dental implants this way.
Contributions to your HSA account are both pre-tax and tax-deductible, so you can save twice. It is managed through a financial institution that can provide you with a debit card. Use it to pay for qualified expenses directly at your dentist's office.
Not everyone is eligible for an HSA. The requirement is a high deductible health plan, meaning $1,350 or more. Anyone, however, both the employee and employer, can set up such an account. You do not have to rely on your work offering this an option, as long as you have a qualifying medical insurance plan.
Retirement savings
Several 401(k) and 403(b) plans offer patients "hardship withdrawals" or loans. These are to be used on medical bills. No credit score check is required, as you are essentially borrowing from yourself.
Typical plans allow you to borrow up to 50% of what is in your savings. This, however, cannot exceed $50,000. Repayment can take as long as 5 years.
To avoid double taxation and an additional 10% tax, the out-of-pocket medical expenses have to be higher than 10% of your adjusted income.
Candidates must have a retirement plan through their employer.
No credit check

Low origination fees

Low interest

Interest is accumulated in your own retirement account
You are using your retirement fund

If your employment is terminated, you must pay the loan off in 60 days

Repayment is taxed which means you pay double the tax for the money you borrow

You may not be able to contribute to your retirement savings until you repay the loan
Family loan
Dental implants finance options also include private solutions.
Family and friends can be great sources of loans. There are many benefits to this solution, for example the flexibility. But you have to be ready for your relationship with the lender to change. Some people are not comfortable borrowing money from even the most trusted friends or relatives.
You can privately draw up a contract or simply negotiate verbally. It all depends on how close you are with the person who is willing to give you money.
Often no interest

Very flexible terms

No credit check necessary
Can complicate relationships
Fundraising
Online fundraising is now simpler than ever. Popular sites include GoFundMe and FundLy. Those platforms may charge a percentage fee. You can also ask your friends and family to contribute to your implant budget instead of giving you birthday or holiday presents.
In order to set up an online registry you can use one of the links above or research other platforms that provide such services. Most likely, you won't need to provide more than your name, email address, and a PayPal or bank account number. Some sites allow you to sign up with Facebook.
There are no special requirements to try with fundraising.
No credit check

You don't need to return the money

No interest
Some might find online fundraising embarrassing or kitschy
Dental implant grants
Federal and government grants for dental implants or a similar procedure are usually funded by the state. They are generally not meant for individuals. The direct proceeds go to universities, state agencies, and non-profit organizations.
If you find any implant grant marked as for individuals, be careful to avoid fraud. You can contact us and we will help you verify its legitimacy.
According to our research the following dental grant programs are likely a scam:
Cosmetic Dentistry Grants,

Harris Dental Grants,

Dental Grants of Texas,

Dental Grants of Canada.
We do not recommend any of these. We have attempted to contact these organizations many times. Any information requests were ignored. What's more, none of our dental reviewers has heard about any of these.
On the basis of our research, we have the grounds to assume that the main goal of these programs is gathering personal data of potential patients. They possibly then pass on information to private offices that target their marketing strategy accordingly.
An array of negative reviews suggests that the proposed prices for implant treatment are inflated. The grant is then used to "pay" for the inflation, making the procedure just as expensive as it would be without their help. The positive comments from their websites are a requirement necessary to receive the grant.
A part of the cost may be covered
Not designed for individuals

There may be conditions you have to fulfill

More research is needed

Frauds and scams are common

Inflated prices
FAQ
What is the best way to finance dental implants?
The best solution might differ from one person to another. In an ideal world, every patient would simply have the cash. If you don't have it on hand, however, there are other options.
If you can make payments on time, you might want to go with a lending institution. They offer solutions like loans and credit cards. You can also take out a second mortgage on your house or borrow from your savings.
What credit score is needed for dental implants?
You don't need to prove your creditworthiness for dental implants themselves. If you want a credit card, or a loan, however, lending institutions will do a thorough check.
Requirements as to your credit score are usually determined individually. The rule of thumb is that it should be at least 600. Of course, the higher, the better.
Can I get dental implants with bad credit?
A bad credit score means you are unlikely to get a loan or qualify for a credit card. But simply checking will do no harm, as most lending institutions do no more than soft inquiries and those won't hurt your score.
Another way is using your retirement savings or your HSA or FSA, as this solution doesn't require a credit score check. Otherwise try fundraising or borrowing money from family and friends.