The cost of a single dental implant ranges from $3,500 to $6,700. Implants for the entire mouth cost between $10,000 and $21,500 per dental arch.
The cost of a dental implant includes surgical placement of the implant body, abutment and crown.
Dental insurance companies often consider implants a cosmetic treatment. You are unlikely to receive coverage for implants.

Use Authority Dental to book an affordable dental implant dentist near you, or get a dental discount plan and save big on all dental procedures, including implants.
Are you wondering about the possible costs of dental implants? Here's everything you need to know.
Average cost of full mouth dental implants
Complete denture on implants are most commonly performed on edentulous patient. Some may be good candidates for permanent solutions, such as All-On-4.
You should expect to pay about $10,000 for removable implant-retained dentures and roughly $21,000 for fixed full-mouth dental implants.
| FULL MOUTH IMPLANTS TYPE | AVERAGE COST | COST RANGE |
| --- | --- | --- |
| Removable implant-retained dentures | $10,500 | $8,000-$17,500 |
| Fixed implant-supported dentures | $21,500 | $15,000-$28,000 |
Please note that these amounts concern the price for a single arch, top or bottom. If you are interested in replacing all of your teeth, double the values.
Average cost of single tooth implant
The average price across the US for an individual implant is $4,800. Dental implants costs near you may range from $3,500 up to $6,700. The location is one of the biggest determining factors.
The costs of a dental implant include the money you'll pay for the surgical placement of the implant body, abutment, and crown. The materials of those influence the price most greatly.
In our estimates we have taken into account a porcelain crown on a custom-made abutment (rather than the cheaper, prefabricated option).

Associated costs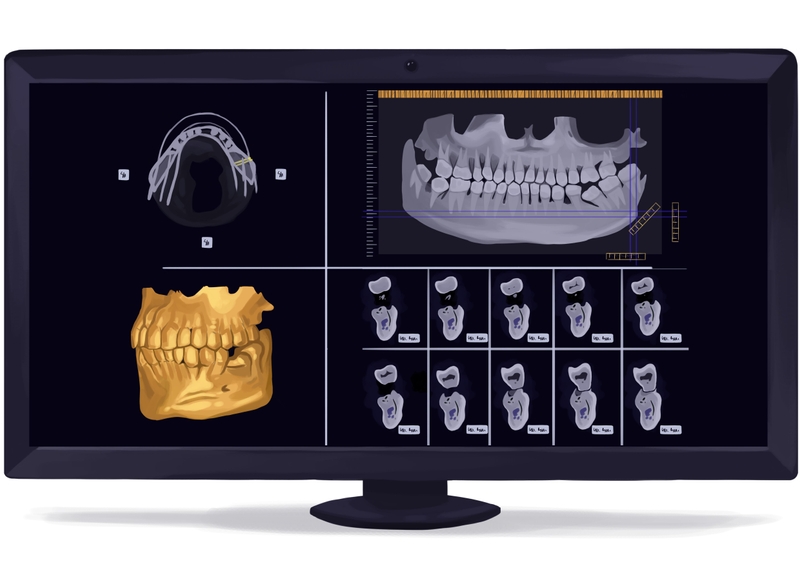 Below you can find information that will help you guess which of the additional procedures you might need. These will generate one or two additional expenses, according to the ranges provided. Low-cost dentists may offer you treatment for more affordable prices, but the severity of your dental condition will determine the final cost.
| PROCEDURE | AVERAGE COST | COST RANGE |
| --- | --- | --- |
| Oral evaluation | $100 | $50-$200 |
| Panoramic X-ray | $130 | $100-$250 |
| Cone beam CT | $350 | $150-$750 |
| Tooth extraction | $300 | $200-$700 |
| Bone grafting | $650 | $350-$1000 |
Have a read-through to find what you can expect them to involve.
Implant placement per se is not the only cost you have to consider. You will have to pay for a dental exam before any serious steps are taken. The dentist will first evaluate your medical history during the initial consultation.
Here you should mention any diseases or illnesses you have or have had. You can make clear what you expect as regards your replacement teeth.
An oral evaluation also involves having a look at the patient's jawbone, which teeth are still present in your mouth, adjacent teeth, and even evaluate healthy teeth. The dentist will assess the patient's state, whether they're a candidate for implant and finally a treatment plan will be devised. A cast of your mouth might be taken afterwards. These steps might take a few appointments.
At the end, the doctor will recommend the best route to take as for your new teeth.
The cost of sedation should be included in your dental implant budget. If you settle for a local injection, it will be included in the cost. Bearing in mind the complexity of the procedure, you are almost sure to require a more deeper form of anesthesia.
The prices can be as high as $250 for each 15 minute increment. What's more, it might be necessary during different stages, not just the dental implant procedure itself. The dentist is likely to recommend it during bone grafting or tooth extraction as well.
In order to install implants safely in your mouth the dentist or oral surgeon will need to inspect the space and the internal structures in your mouth. He or she will also have a look at the soft tissues, nerve pathways, and bone.
There are many different types of X-rays and the dental professional will know best which are necessary. The cost of dental X-rays (most common CBCT and a panoramic X-ray) is an inherent part of the dental implant procedure.
One or more tooth extractions may be necessary before your implants are placed in your mouth. These costs are dependent on the type of tooth that needs to be removed and its location.
Some teeth are easier to remove than others. Especially with molars the dentist might need to numb your mouth or sedate you. While sedation is optional, numbing is necessary for all teeth extractions.
These procedures affect the price greatly.
Bone grafting serves to create a thicker space in the bone for the implant to sit in. The thicker the bone the more stable the implant is. A bone graft helps to prevent implant failure, which could generate even more costs.
You might require hospitalization before, during, and after this procedure. This step might drag the whole process out by several months. Nonetheless, you should consider bone grafting part of the cost, as without it dental implants are often not an option.
Dental insurance coverage
Implants are generally treated by policy providers as cosmetic treatment, so it is difficult to find favorable dental insurance that covers implants. That being so, it is worth revising your current plan and checking if you can save on these additional procedures. This will ultimately reduce the total cost of the restoration.
FAQ
Why are dental implants so expensive?
Generally, dental implants are considered to be among the most expensive of all dental treatments. Bearing that in mind, they are also deemed the best method of replacing missing teeth.
The planning process requires a lot of skill and precision. In order for your surgery to be safe, the dentist must be trained in administering anesthesia. An anesthesiologist might also have to be present. The materials implants are made from are expensive too, as they must be body-safe and durable.
All this adds up to a large bill.
Do I have to pay the full price of the implant at once?
Many dental offices offer installment plans that can help you spread the cost out over months or even years. Some will even work with your insurance provider to make the most of your yearly caps. Shop around in your area or consider traveling in order to get the best price possible.