Mini dental implants are smaller than conventional implants and consist of only two parts. The surgery for mini implants usually takes only one day and the price is relatively low.
Mini dental implants do not require complicated surgery, are quick and easy to restore, and carry a lower risk of nerve injury. No bone augmentation is required for these implants.
Some of the cases where this procedure is not a good choice are oral diseases, diabetics, smoking and bruxism.

A radiant smile is a call away. Use Authority Dental to book an appointment for inexpensive dental implants near you. It's fast, easy and trustworthy.
Are you considering mini dental implants? Here's everything you need to know.
Mini dental implants vs. traditional implants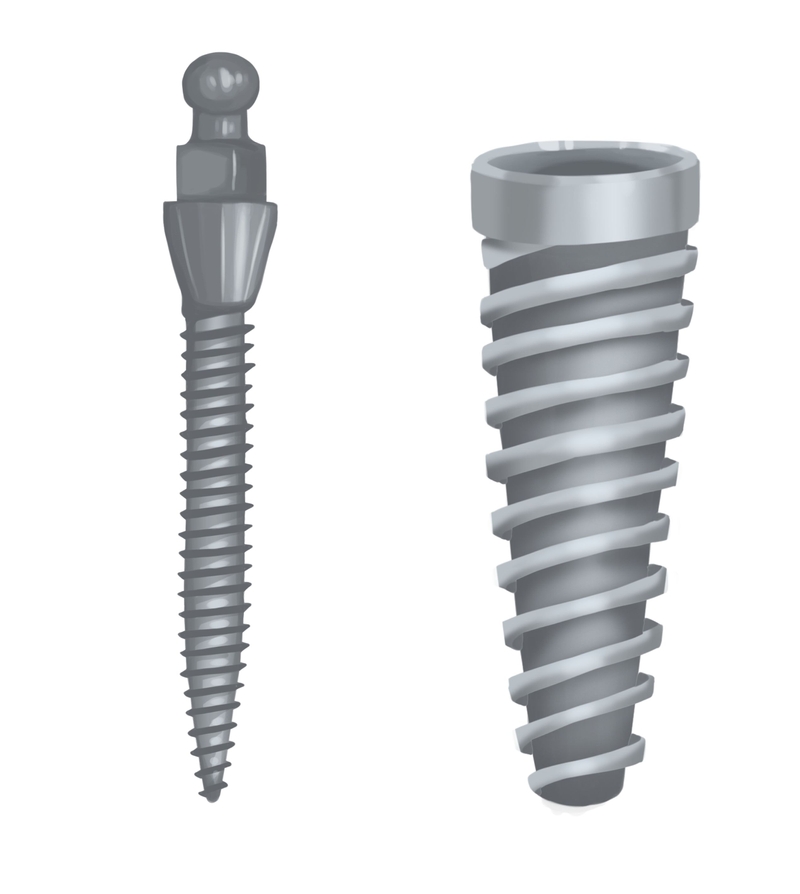 You may be on the fence whether to get traditional or mini dental implants. It is mostly up to your dentist to decide which is best in your case. On the other hand, it's good to come for an initial consultation informed enough to know the key differences.
Mini dental implants are smaller than the traditional kind. First of all, they are made of just two parts: a post and the crown. Traditional implants are composed of the screw, abutment connection, and the prosthetic crown. That's why mini dental implants pictures are easier on the eyes than with regular rods.
In terms of the actual size, mini dental implants are 1.8 mm to 3.3 mm in diameter. Regular ones are 3.4 mm to 7 mm in width. Lengths are comparable.
Mini dental implants can usually be installed in just one day under local anesthesia. The surgery takes about 2 hours. There are no sutures to be removed later.
Traditional dental implants often require bone grafting or sinus lifting. These preliminary procedures require months of healing.
After that, implants are surgically placed. About 2 weeks later, an abutment can be added. Then it's time for osseointegration, which, again, can take months. You may be able to wear temporary replacements at this time. The whole process can last up to 2 years in total.
Fake teeth are most often mounted on mini implants straight away. Patients can leave the office with a new smile that they can start to use right away. Any soreness usually disappears within 48 hours. You are likely to be able to eat that night.
Sticking to soft foods for a few days after surgery is always a good idea. When getting traditional implants, it is the only way.
Dental implant recovery can be a complicated process when regular implants are inserted. Some patients quote feeling more discomfort during this time than at the time of the surgery. Recovery can take weeks if not months. You are likely to feel slight pain for up to 10 days.
Nonetheless, patients should do their best to conduct proper aftercare. This helps alleviate soreness and ensure longevity of both mini dental implants and the traditional ones. Dental implant failure is almost always caused by patient noncompliance.
Dentist error may happen. Make sure to go with a provider who has a lot of experience with this type of restoration.
Both traditional and mini implants are composed of titanium alloy. This material is one of the strongest ones used in medicine. It is also biocompatible, which means bone fuses with it directly.
Studies show that the length of the implant is more important than the diameter when it comes to stability. This is why this is comparable in both types. Some dentists still argue that minis are not able to withstand as much chewing force.
Traditional implants have been studied in-depth, as they have been in use for more than 50 years. They are considered a long term solution to missing teeth. Mini dental implants have not been on the market for as long and have thus not been as thoroughly researched.
They are still getting a lot of recognition for the success dentists have been able to achieve with them so far.
Mini dental implants cost
Mini dental implants cost near you may be anywhere between $500 and $1,500. Rural areas tend to have more favorable prices than large cities. Other than the location, the discrepancy can be explained due to the following factors:
the complexity and duration of the procedures,

affordability of materials, and

the type of anesthesia needed.
Note the values mentioned above do not include costs of additional procedures. Nevertheless, prices are still lower than the cost of regular-sized implants. So, if you are looking for affordable dental implants, this type may be a good option for you.
Pros and cons of mini dental implants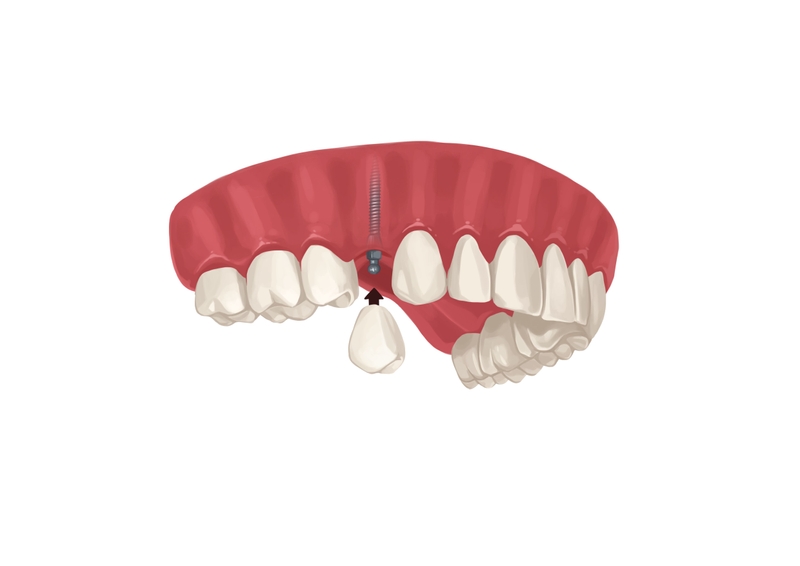 Mini dental implants may be the only solution for some patients. That doesn't mean they are a last resort, as they still have many benefits over the traditional process. Mini dental implants reviews are commonly very positive.
First of all, there is no complicated surgery involved. Patients may walk out with not only a single implant, but a fully restored arch. Secondly, the recovery period is mild and short. Healing happens faster and more efficiently. There is no need for bone grafting or sinus lifting either.

And lastly, there is less of a risk of complications such as nerve damage.
Nonetheless, it's good to be aware of the disadvantages of mini dental implants. They cannot be used in areas with little vertical bone. Mini dental implant screws are quite long to ensure stability. This means they need adequate volume.

Furthermore, more implants might be required than with the traditional process, especially when they are supporting bridges or dentures. If mini dental implants get damaged, the whole thing has to be removed. Traditional implants include 3 components, which are easier and cheaper to replace if anything goes wrong.
Last but not least, there is little data on the durability and longevity of mini dental implants dentistry. This solution is an innovation, which means there is a lack of longitudinal studies and observation.
No complicated surgery

Quick and easy recovery

No bone augmentation procedures are needed

Smaller risk of nerve damage
Cannot be implanted if there is little vertical bone

At least 4 implants required to support a bridge or denture

Reimplantation is necessary if there is any damage

Little research on long-term durability
Mini dental implants candidate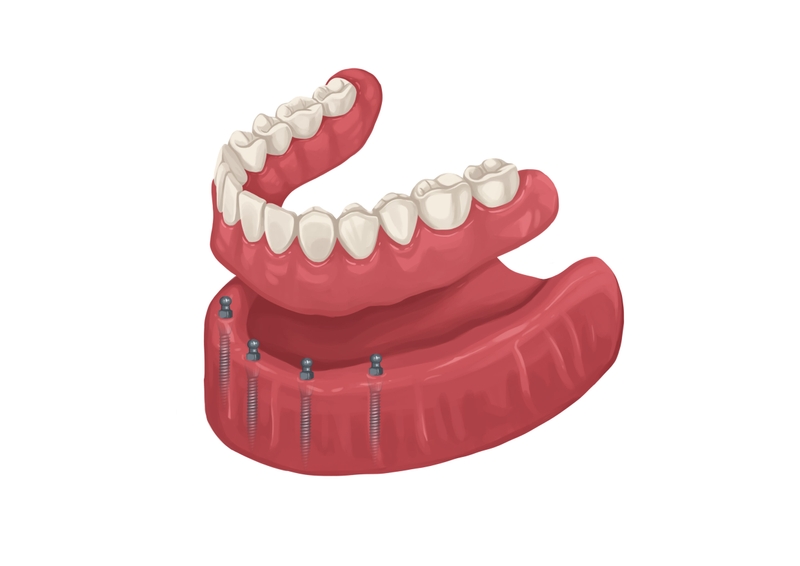 Standard dental implants have a lot of requirements and you may have been told before that you do not qualify. The good news is that you may still be a candidate for mini dental implants.
Mini dental implants are recommended for patients who:
have small teeth,

want restoration in narrow spaces,

have lost a lot of bone,

need replacement of front teeth, and

wants a full smile quickly.
Mini dental implants are not advised for:
those with mouth diseases such as periodontitis,

those who need molars replaced,

those who grind their teeth, or

those have a small amount of vertical jawbone.
This option might also not be a great suit for upper teeth replacements, however they can work in certain situations. It is at the discretion of the dentist to decide whether you are a good candidate. A mini implant denture may be more appropriate than a traditional one in many circumstances.
Mini dental implants near me
Minis are relatively new in the dental world. The right mini dental implants dentist must be skilled, knowledgeable, and up-to-date on the newest techniques. How do you go about finding one?
We can help you out. Authority Dental's network of dentists is full of experts with great reviews and years of experience. We can find you a dentist who will consider your schedule and individual needs.
Your insurance plan and preferred form of payment will be taken into account to optimize the costs. This is all free of charge. We're available 24/7.
FAQ
Are mini dental implants as good as regular implants?
In some cases mini dental implants can be a better fit than the regular kind. It all depends on the patients, how much bone they have available and whether they're a candidate for bone augmentation.
Consult with a specialist who performs both procedures regularly. They will know best what is right in your case.
How long do mini dental implants last?
There is a lack of long-term observational studies on mini dental implants since they are a new technology. Nonetheless, they are designed to be a permanent restoration. Even though they haven't been available for long, a lot of success has been recorded.
Why do mini implants fail?
Mini implants can fail due to patient-oriented factors, just as with the traditional process. These include poor hygiene, diabetes, or smoking. Other reasons include incorrect placement leading to an excess of pressure placed on the rod. Minis are also sometimes unsuccessful in patients with a large volume of gum tissue.
The best way to avoid failure is to go with an experienced specialist and conduct excellent aftercare.
How much bone is needed for mini implants?
Minis can be installed when there is less than 1 mm of the available bone around the implant area. It is common that upper arches have less, which means you might need augmentation procedures, although this is rare in the case of mini dental implants.
Can mini dental implants be used for upper dentures?
Mini implants can sometimes be mounted on the top arch. It depends on the quality and amount of bone you have available. Each case is different, so your dentist is the best person to ask for an accurate opinion.
Mini dental implants work better on the bottom arch. This is because there is more jawbone available to stabilize the implant.