Getting a dental implant is a serious investment, and you should carefully consider choosing a brand. Not all are the same.
The leading dental implant manufacturers are Straumann, Nobel Biocare, Dentsply Sirona, Zimmer Biomet, Henry Schein/BioHorizons, Hiossen and MegaGen. Each of them offers products with unique features.
Some brands have a wider range of products, while others are focused on medical research. Some manufacturers have highly innovative products, such as implants that promote bone growth.

A brilliant smile is your key to a happier life. Use Authority Dental to find an affordable dental implant treatment near you. It's easy, fast, and reliable.
Confused about choosing a brand for dental implants? Here's everything you need to know.
Top 7 dental implant brands
There are seven companies that are well-known for having excellent dental implants. These seven are in no particular order and you'll be getting a great product no matter which one you choose.
Straumann
Straumann is certainly one of the leading dental implant companies and is trusted by many dentists, oral surgeons, periodontists, prosthodontists, and other dental professionals who place implants. The company was established in 1974 and has since sold over 14 million implants around the world. A recent estimation shows that Straumann holds 24% of the market for implant dentistry.
Straumann does more than dental implants. They also make digital products for scanning and impressions, biomaterials, surgical guides, and implant instruments. They continue to improve their innovative solutions using research and development in their own scientific labs.
Straumann also provides initial and continuing education training on implant placement, as well as how to use their own products. They present courses for dental professionals to enhance their implant skills and also have educational materials for patients who are considering an implant restoration.
Nobel Biocare
Nobel Biocare is another leading implant company, holding approximately 35% of the dental implant market share. It boasts 65 years of implant research and development, starting with Per-Ingvar Brånemark's discovery of osseointegration. Nobel Biocare's headquarters are in Zurich, Switzerland, but they have locations in many countries around the world.
Like Straumann, Nobel Biocare offers a full range of implant products, training, implementation, and patient education materials. They focus their efforts on the manufacturing of dental implants and the products related to implant placement, like abutments, crowns, and bridges. They have their own software and scanning systems that can be used individually or together to design prosthetics.
Dentsply Sirona
Dentsply Sirona has been around for more than a century. They have a supply of dental equipment and consumables and sell products in over 120 countries around the world. Dentsply Sirona is the market leader in consumables in dentistry. It produces both laboratory products and dental supplies, including anesthetics and materials used for gum disease prevention.
Dentsply Sirona has an extensive product lineup. They provide technology or products for digital solutions, orthodontics, enabling devices, implants, general healthcare, single unit crowns, root canal treatment, class II direct restorations, and digital lab workflows and preventive procedures.
Zimmer Biomet
Zimmer Biomet was established in 1927 and first introduced itself in the medical world. They have been a leader in prostehetic technology, including guided robotic surgeries. It constitutes 20% of the market share in worldwide orthopedic medtech and just under 10% of the dental implant market share.
Outside of its contributions to the medical and dental world, Zimmer Biolet dedicates a team to developing sustainable practices - both environmental and social. In 2018, they announced a philanthropic arm of the company, which devotes resources to communities in need.
Henry Schein
Henry Schein completed a 60% equity investment in BioHorizons back in 2013, so you'll see either of those two names on this one brand. Henry Schein is the world's largest producer of healthcare products, with lines in the medical, dental, and veterinary fields. They offer a wide range of products in both clinical and office supplies.
BioHorizons was first established in 1994 known for producing high-quality dental implants, as well as regenerative products for bone grafting needs. In just ten years, they produced $130 million in revenue, which is when Henry Schein stepped in to invest.
Hiossen (Osstem Implant)
Hiossen is one of the top five dental implant suppliers in the world. They specialize in implants, dental equipment, clinical education, and digital dentistry. It has the largest Asian-Pacific market share of dental implants.
Hiossen has a unique mission. Their focus is on shortening treatment periods using new techniques that enhance placement accuracy and decrease the length of appointments, as well as the number of times a patient must return to the office. Hiossen has several lines of dental implants, each with different benefits.
MegaGen Implant
MegaGen implants are used in over 100 countries and have been expanding their market share in recent years. Like the other companies we've discussed, MegaGen offers more than just implants. They have bone regeneration materials, digital scanners and printers, and their own line of extraction instruments.
MegaGen's implants are blue, due to a chemical reaction between calcium and titanium. The blue color sets them apart from other implants and allows for quick quality control. The layer of calcium also enhances osseointegration (bone growth) of the implant and bone, which decreases healing time after treatment. The accelerated bone formation is due to the calcium attracting other ions, which work together to create an apatite layer and promote quick mineralization.
What can the dental implant market look like in the future?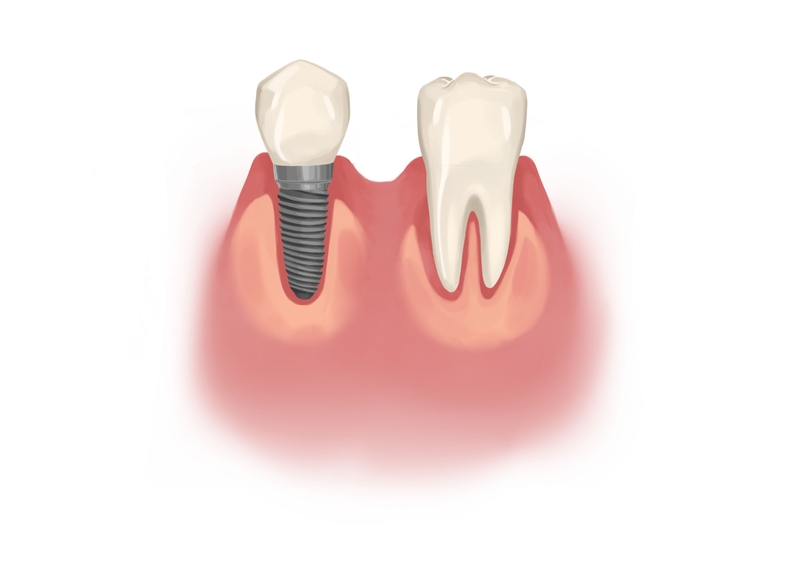 The dental industry expects to see the market for dental implants will only go up in the future. It's projected to $60 billion by the year 2024, just two short years away. The increase is based on the demand for better oral appliances and a rising amount of disposable income from people across the globe.
Professionals have been doing an outstanding job of spreading dental education to a larger population. Now, more people than ever understand the impact of poor oral care on the rest of their health, so we're seeing an increase in demand for restorative treatment.
Of course, there has also been an uptick in cosmetic dentistry, lifestyles, and technological advancements that have been key into pushing the dental implant market to new heights. Dental implant technologies will only continue to grow as science expands the reach of what professionals can accomplish.
In addition, our geriatric population continues to grow, as does their access to insurance companies who provide benefits for dental implants. This is in stark contrast to just a few years ago, when dental implants were rarely part of insurance coverage.
FAQ
How many brands of dental implants are there?
There are more than 150 dental implants brands, but there are about five that are the most trusted and well-known. Still, other lesser-known implant companies exist and many have quality products.
How to choose between different dental implant systems?
You should consult with a dental professional about the dental implant systems that are available to you. If they prefer to use one not as well-known, you should spend some time researching the quality of the brand to make sure you will not have problems in the future.
What factors, other than dental implant brand, determine the success of implant placement?
Other than the brand of the dental implant, the patient and the dental professional have just as much (if not more) impact on the success of the implant. There are patients that are not good candidates for implants, typically either because of their current bone health or their overall health. In addition, some dental providers have more skill and more education than others, which can lead to better outcomes. Make sure your dentist reviews your medical history and ask them about their success rate in previous cases.