Invisible braces are clear, removable orthodontic appliances used as an alternative to traditional brackets, especially in adult patients.
Invisible braces are recommended only for patients with mild misaligned teeth and generally good oral health.
You can wear either in-office invisible braces or at-home ones. In-office options are supervised by a dental professional, most commonly Invisalign. At-home options are for patients who need minimal changes.

Get a smile you'll love for less. Use Authority Dental to find inexpensive dental care nearby. It's easy, secure and free.
Should you choose invisible braces for your orthodontic problems? Here's everything you need to know.
Types of invisible braces
In recent years, the field of orthodontics has developed a great deal. Many brands that offer invisible braces have appeared on the market. Due to the increased availability of remote treatment, a division of in-office vs. at-home treatments was clarified.
The main difference is the number and frequency of required visits to the office. While the materials and process are very similar, the choice can be made based on the amount of specialist support you desire.
In-office
In-office invisible braces are a compromise between the traditional process and working completely on your own. A dental professional oversees the entire treatment. Changes can be made as necessary and refinement is possible if you are not satisfied with the results.
The most popular in-office solution among clear braces is Invisalign. Patients are given aligners set by set during each of the regular dental check-ups. There are a few packages to choose from, depending on your schedule or severity of the problem. The Invisalign treatment includes making spaces between the teeth and bonding attachments to aid movement.

Some dentists and orthodontists also offer so-called custom trays. It works basically like off-brand Invisalign. The dental professional reviews the situation in your mouth and an affiliated lab makes your aligners. You still have to come in at regular intervals, usually 1-2 months.
At-home
Online braces are a remote option for those who don't have time for regular visits to the office. Most companies do allow patients to come in for an initial scan and consultation. After that, however, you may only be able to contact them via phone, email, or an app.
The process usually starts with a form you have to fill out on the brand's website. You need to let them know what you are looking to fix and what state your mouth is in. Then it is time for impressions made from home or a scan visit.
Most commonly, patients receive all of the aligners at once. It is their responsibility to remember about switching them out and reporting any issues. As soon as the trays are all used, a retainer is provided, usually at a small charge, to wear indefinitely.
It is difficult to denote the best invisible braces. In order to encourage patients to purchase their kit, brands often add additional accessories to the sets. You can expect the following:
chewies to help your aligners fit properly,

vibration devices that minimize discomfort and speed up the process, and

whitening solutions, which can be used simultaneously with straightening trays.
Invisible aligners candidate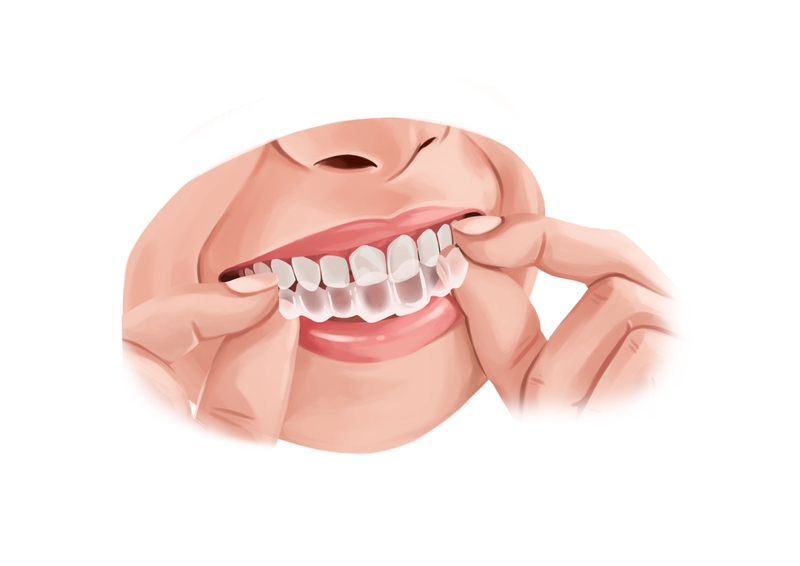 The candidate profiles are different for in-office and at-home options.
Remote kits are only suitable for patients with simple orthodontic issues such as crooked teeth, slight asymmetry, or minimal buck teeth. If you have, for example, issues with your bite, aligners are out of the question.

This comes from the fact that there isn't much contact with an experienced professional. Many kits only check your impressions and no X-rays are taken. This means bone biology is often overlooked. Bigger issues need to be addressed working with the internal structures in mind.
Most at-home braces brands also require the patient to have all permanent teeth, no baby dentition. This means you must be about 12 years of age or older. It's also worth reaching out to the provider if you have crowns, bridges, or dental implants. For some, this could make treatment impossible.
GOOD

Slight misalignment

All permanent teeth

General oral health

Consistency
NOT SO GOOD

Severe misalignment

Bite issues

Crowns, bridges, and implants

Gum disease

Active tooth decay

Baby teeth
A few of the issues above can be fixed prior to treatment, so if you are rejected make sure to target the problem. You can reapply and perhaps be accepted for teeth aligners the second time.
Patients with more complex cases can choose to go with in-office aligners. There is regular monitoring by a professional and the treatment is more individualised. Buttons and attachments can be used to achieve bigger changes.
Whichever you pick, remember is to visit your regular dentist throughout the treatment. Even Invisalign check-ups don't include maintenance such as teeth cleaning.
Invisible braces process
Similarly to regular wire braces, clear aligners apply force to the dentition that is not placed optimally to very slowly move it. Each tray is slightly more symmetrical and therefore arches steadily become even with time. The whole treatment can last anywhere from about 3 months up to 2 years.
When you receive your aligners, you should start wearing them straight away. The recommended time for wearing most trays is at least 22 hours a day. Several brands offer nighttime options, so you don't have to wear aligners during the day. Remember, though, that this might double the treatment time.
Monitor your bite closely. If it feels like your teeth no longer fit together, you could be looking at a serious problem. Report to the aligner company and a dentist or orthodontist. They will let you know whether you can continue the treatment.
Some invisible braces are designed in a way that allows for eating with them in. Nonetheless, many reviews show that this is uncomfortable and that the taste sensation is minimal. It's best to carry around a case that you can store trays in during mealtimes.
Ideally, stick to drinking water only when your aligners are in. If you experience gum irritation, use a nail file to smoothen the edges. A little discomfort is normal, especially with each new set.
When the last set of aligners fits perfectly, it will be time for retainers. The rule of thumb is to wear them as if they were regular trays for 2 weeks and at nighttime after that.
Invisible aligners care and maintenance
In order to keep your mouth in good health during the teeth straightening process, you have to clean and store the aligners properly.
Brush your teeth and aligners after you eat every time. You should also do this when you wake up. Since your mouth is usually closed, you are not drinking water, and not producing as much saliva, sleeping is a time when bacteria builds up a lot. All of this has to be removed before you go about your day.
In order to clean the aligners, rinse them in warm, but never hot, water. You can buy special paste that can be used with a soft-bristled toothbrush. This prevents scratches that can make the trays more visible in your mouth.
If the brand you chose provides cleaning tablets, soak the trays in water solution. The best time to do this is during your longest meal, as they should not be out of your mouth for longer than 2 hours a day. Nonetheless, rinse the trays now and then to remove dried saliva.
Only use products recommended specifically for aligners. Denture or retainer cleaner as well as mouthwash can cause staining and a change of shape. This does not only look bad but can make the treatment less effective.
Store the aligners inside a case to prevent damage or contamination.
FAQ
What do invisible braces look like?
Invisible braces are clear, plastic trays that go on your teeth. Each next pair has a slightly straighter design to shift your teeth into place. If you go with Invisalign, you are likely to have buttons and attachments on the trays that will further help in alignment.
Are invisible braces effective?
Many invisible aligner companies are backed up by thousands of positive reviews. Always do your research before choosing a brand. If your alignment issue is mild, you are likely to be very satisfied with the results.
How long does it take for invisible braces to work?
Most treatment plans last a few months. Invisalign can quote longer times, but this is because they take on more complicated cases and make use of buttons and attachments. The shortest average treatment plan is 3 months.
Is straightening teeth at home safe?
Home teeth straightening kits are designed by dentists and orthodontists to make sure the treatment is safe and effective. There are risks to aligning your teeth at home as with any other procedure, but patient reviews are overwhelmingly positive.
If your misalignment is too complex or severe, you will be rejected for remote treatment. Instead, you might have to go with Invisalign or traditional braces.
Do invisible braces hurt?
When you are aligning your teeth with invisible braces, you are shifting their position by force. The trays put constant pressure on the dentition to force them into alignment. This causes soreness in your jaw and gums.
High-frequency vibration therapy devices or chewies that are often included in straightening kits can help alleviate pain, but you are sure to experience some degree of discomfort either way.
In order to avoid unnecessary pain, adhere to instructions strictly. If you don't wear your trays enough, if you lose them, or if you move on to the next set too quickly, the treatment is likely to be more painful.