The cost of a dental crown depends on the type of material used. The average cost ranges from $800 to $2,500.
More expensive crowns, such as ceramic or gold crowns, tend to be more durable. A porcelain crown is a less expensive alternative.
The final price will also depend on where you would like to get the procedure and your treatment plan. Expect to pay more for a dental crown in the front of your mouth than for a crown in the back of your mouth.

Use Authority Dental to find an affordable dentist near you, or sign up for a dental savings plan to save big on all procedures, including crowns.
Need to estimate the cost of a dental crown? Here's everything you need to know.
Dental crown cost explained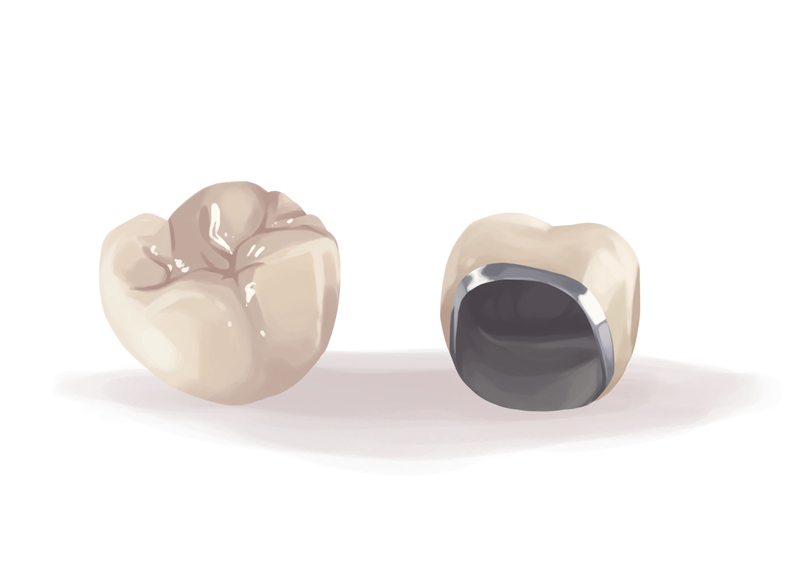 The cost of a dental crown depends first and foremost on the type of material.
| DENTAL CROWN TYPE | AVERAGE COST | COST RANGE |
| --- | --- | --- |
| All-ceramic or zirconia | $1,300 | $1,000-$2,500 |
| Porcelain crown fused to metal | $1,100 | $800-$2,400 |
| All-metal crown | $1,300 | $900-$2,500 |
| Provisional | $450 | $200-$700 |
Each of these materials determines specific aesthetics and durability. An expensive crown, like a ceramic crown or a gold alloy crown usually presents a more durable material. And the more expensive, the more natural teeth look. A porcelain crown is a cheaper alternative.
The final price also depends on your localization, your treatment plan, as well as who performed the dental crown (general dentist or prosthodontist, which is more expensive). Expect to pay more for a front teeth dental crown than for a crown in the back.
Associated costs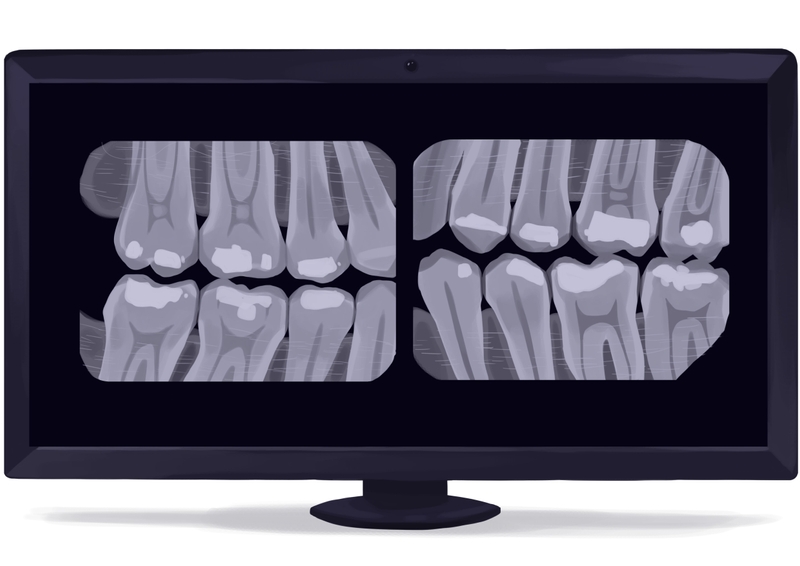 Some of the procedures below might be required.
| PROCEDURE | AVERAGE COST | COST RANGE |
| --- | --- | --- |
| Dental exam | $100 | $50-$200 |
| Periapical X-ray | $35 | $25-$50 |
| Bitewing X-ray | $35 | $25-$50 |
| Cone beam CT | $330 | $150-$750 |
| Diagnostic casts | $140 | $50-$300 |
| Core build-up | $300 | $200-$500 |
| Post and core | $350 | $250-$650 |
| Protective restoration | $150 | $90-$250 |
During your first dental visit or a follow-up visit, your dentist will inform you which of them are necessary.
You will usually have a reason for getting a tooth cap, whether it be root canal treatment or a large filling that has fallen out. During the dental exam, a professional dentist will address the existing issues in your mouth and determine whether you are a good candidate for a dental crown placement.
You will discuss the range of material that will be used. It is worth weighing all options to make sure you are getting the type of crown you want.
Every step of the procedure will be made clear and the costs of the crown and additional treatments should be quoted at this time. The costs for a dental exam start at $50.
The total bill for a crown placement can include the cost of an X-ray. The dental professional might need to see the whole tooth, from the very top to the very root. It could be beneficial to have a look at the spaces between the teeth as well.
The most common types of radiographs needed for this procedure are a periapical and a bitewing. You can learn more about them in our article about dental X-rays.
A diagnostic cast is a guide for the dental professional. It can mimic the shape and the movement of your jaw to help visualize how the teeth work together. It is sometimes referred to as a study model.
You will have to bite down on a depressor for a few minutes to relax your jaw. It will be moved to a central position. A silicone or wax mold will be made to mimic the shape of your teeth and then turned into a cast of dental stone at the lab.
If too much of the top portion of your tooth (the coronal structure) has worn down or been otherwise lost, you may need core buildup. It is necessary for holding up the crown.
The dental professional will add resin materials to the remainder of your tooth to make it big enough to support the tooth cap. This is why it's important to avoid eating sticky food often since your crown over time may loosen.
A post can only be installed in teeth that have had a root canal treatment. A prefabricated post is inserted into a root canal and supported by cement. It will protrude from the tooth and a crown can be placed on top.
This procedure is not recommended for teeth with short roots. If the roots are long enough and there is a need for a core buildup this procedure might be the right choice.
This is a temporary solution protecting the tooth for later restoration. A filling is bonded directly to the tooth. It will prevent further deterioration and can relieve pain as well as promote healing.
Does insurance cover dental crown costs?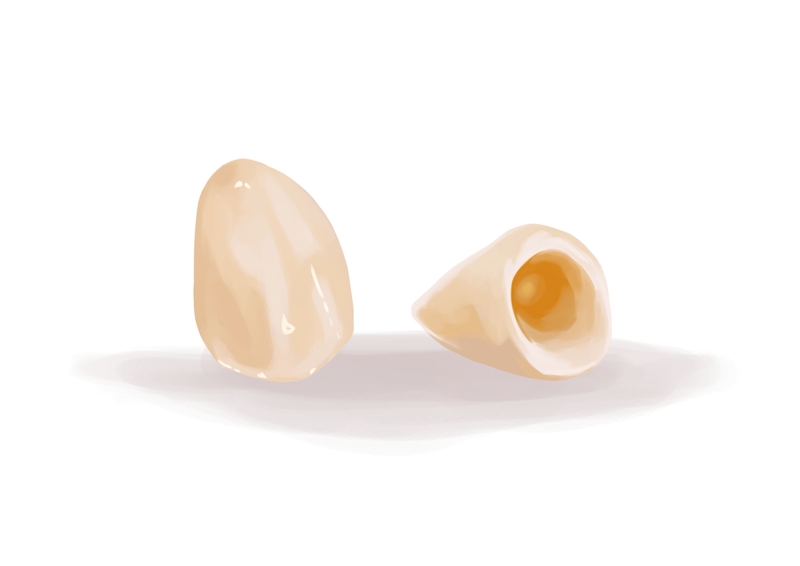 If the crown is medically necessary, and not just a cosmetic treatment, then around 50% can probably be covered by dental insurance, while the rest will come out of your pocket. Make sure to check with your provider.
Sometimes getting a crown is not yet needed but still performed as a preventative treatment. This could also be (in part) covered by insurance. Those instances include covering a root canal or repairing a broken tooth.
However, if the crown replacement is completely cosmetic, in that case fixing your tooth without insurance could be quite expensive.
Please note that a waiting period is common; around six months to a year after the policy is active is the norm.
If you need a crown placed quickly, we recommend getting a dental discount plan. There are no waiting periods, no paperwork, and no yearly limits. You simply visit an in-network dentist and have the treatment you need performed 10%-60% cheaper.
Dental plans work sort of like memberships. There is a regular fee (monthly, quarterly, or annual) and all dental procedures are reduced. You don't need any evidence that treatment is medically necessary, as they cover all cosmetic procedures too.
FAQ
Why do dental crowns cost so much?
Although the average prices for different materials of crowns are similar, it is still the most determining factor. The costliest crowns are porcelain-fused-to-metal. They are difficult to make but also combine the advantages of both materials.
What is the cheapest crown for a tooth?
All-metal crowns are the cheapest among permanent restorations. At the same time, this material is the strongest and most durable. Provisional crowns may be cheaper, but you shouldn't wear them for more than a couple weeks.
Are dental crowns worth the price?
It is rare that a crown needs any treatment for at least 5 years after the initial placement. This means that once you pay for the procedure, you shouldn't spend any money on that tooth for some time.
What's more, most crowns last from 15-20 years. A crown may turn out to be a lifelong restoration. The only other tooth replacement method that may last longer is a dental implant. Those, however, are usually much more expensive and the placement procedure takes a lot longer.