Many dental insurance plans cover dental implants, but the coverage depends on the plan and provider.
When choosing an insurance plan, look for annual maximums and deductibles, cost-sharing amounts and access to in-network providers. Also pay attention to the insurance provider's reputation.
Some of the top dental insurance providers for implants in 2022 include Delta Dental, Spirit Dental, Ameritas, Cigna Dental and Renaissance Dental.

A brilliant smile is more accessible than ever Use Authority Dental to find local dental implant clinics. It's easy, fast, and reliable.
How can you choose the best insurance provider to cover the costs of your dental implants? Here's everything you need to know. 
Does dental insurance cover implants?
If you're searching for dental insurance, one thing you should find out is if the plan covers the dental implant procedure. Not too long ago, this was rare. Today, many plans include implant coverage. You may find them grouped into other "major" dental services, or listed in a section of their own.
Even if the insurance policy does offer implant benefits, you should take the time to learn about how the coverage works. But more on that below.
Best dental insurance for implants
As we were researching the best dental insurance for implants, we looked at the websites of multiple insurance carriers. We compared several aspects, such as the annual maximums and deductibles, cost-sharing amounts, and access to in-network providers.
We also took into consideration each company's ratings and reputations from unbiased sources. We urge you to explore each provider website so you can learn more about your specific circumstances, including your current dental health and where you live.
Delta Dental
Annual maximum: $1,000 - $2,500

Implant coverage level: 0% - 70%

In-network providers: varies, but Delta Dental has the largest number of dentists nationwide
As with the rest of the plans your coverage will vary based on where you live and if you have a self-purchased individual plan or one provider by your employer. For our purposes, we'll discuss the ones purchased individually.
Delta's Platinum plan is the only individual policy that includes implant coverage. It is the best plan they offer and has 70% coverage on dental implants as well as other major restorative treatment. It also includes 80% coverage on basic treatment and 100% coverage on all preventive services. The annual maximum of $2,500 is much higher than their other options, which makes this plan a great choice for those who need implants or other extensive treatment.
Large provider network

Low cost-sharing (for the insured)
High premiums

Low annual max compared to other plans
Spirit Dental
Annual maximum: $1,200 - $5,000

Implant coverage level: 25% - 50%

In-network providers: varies by state; underwritten by Ameritas
Spirit Dental offers a wide variety of plans that go by different names. All of them are underwritten by Ameritas, so if you choose one of these plans, you'll want to search for a dentist who is in-network with Ameritas. Many dental insurance carriers do this.
Since there is such a wide variety of plans, coverage for implants is often different. However, most plans use an incremental coverage table. The longer you have the plan, the less your cost-sharing portion is. For example, implant coverage typically begins at 25% for year one, and then goes up to 50% in year two. Other services do not max out coverage until year three.
Option for large annual maximum

Can add vision and hearing benefits
Provider network sparse in some areas

Incremental benefits start low in first year
Ameritas
Annual maximum: $1,000 - $2,500

Implant coverage level: 20% - 50%

In-network providers: varies by state
Ameritas offers dental only plan or plans that can also include vision insurance. Some states have more plans available than others, but there are typically at least three options for most people.
All Ameritas plans have incremental benefits, including an incremental annual maximum. Plans will either maximize their benefits after two or three years. The nice thing about Ameritas is that they do not have waiting periods for any of their covered services.
No waiting period

Low monthly premiums
Incremental benefits start low in first year

Provider network sparse in some areas
Cigna Dental
Annualmaximum: $1,000 - $5,000

Implant coverage level: 0% - 60%

In-network providers: 92,700 dentists and dental specialists nationwide
Cigna's individual plans are often underwritten by Careington, which can be confusing as providers who are in-network with Cigna may not be in-network with Careington. However, their individual policies do have out-of-network benefits.
Cigna is one popular choice for older adults on Medicare as their plans can include vision and hearing benefits, all included in one premium. Most of their plans offer incremental benefits and can go up to 90% coverage on basic treatment. However, major coverage starts at 0% in the first year, so most plans do not have implant coverage until the second year.
Large annual maximum

Option to add vision and hearing benefits
Most plans have 0% implant coverage in year 1

Plans are often underwritten by Careington
Renaissance Dental
Annual maximum: $1,000

Implant coverage level: 0% - 50%

In-network providers: varies based on region and zip code, but includes several plan names
Renaissance Dental includes a few insurance carriers including Maximum Care, Maverest Dental Network, Connection Dental, Stratose, Premier Dental Group, and DDS, Inc. Members have the option to add a vision rider to individual policies.
All of these policies have a 12-month waiting period for major services, including implants. After the waiting period has been met, implants are covered at 50%. However, the annual maximum is capped at $1,000 per year, which may not go very far considering the cost of implants.
Out-of-network coverage

No waiting period for preventive services
Low annual maximum

12 month waiting period for implants
Denali Dental
Annual maximum: up to $6,000

Implant coverage level: 25% - 50%

In-network providers: varies by state, but has out-of-network benefits
Denali Dental offers two different plans that include implant coverage: The Denali Summit Plan and the Denali Ridge Plan. Like other plans we discussed, this one also has incremental coverage that maxes out after four years. The Summit Plan has the best dental implant coverage.
The Denali Summit plans starts with 30% implant coverage in year one, then goes up by 10% each year for a total of four years. Dental implants max out coverage at 60% in year four.
High annual maximum

Low cost-sharing at year four
Smaller provider network

Higher cost-sharing initially
Anthem
Annual maximum: $1,000 - unlimited

Implant coverage level: 0% - 50%

In-network providers: one of the largest PPO networks in the United States
Anthem offers many different plans, some with an unlimited annual maximum. However, they will either have a six or 12-month waiting period for all major services, including implants.
Many Anthem plans do not include dental implant coverage unless the implant is paired with a dental prosthesis like an implant-retained denture. In that case, the dental insurance plan will pay towards the implant or prosthetic.
Lower monthly premiums

Large provider network
Waiting periods for major services

Limited coverage for implants
How to choose the best dental implant insurance?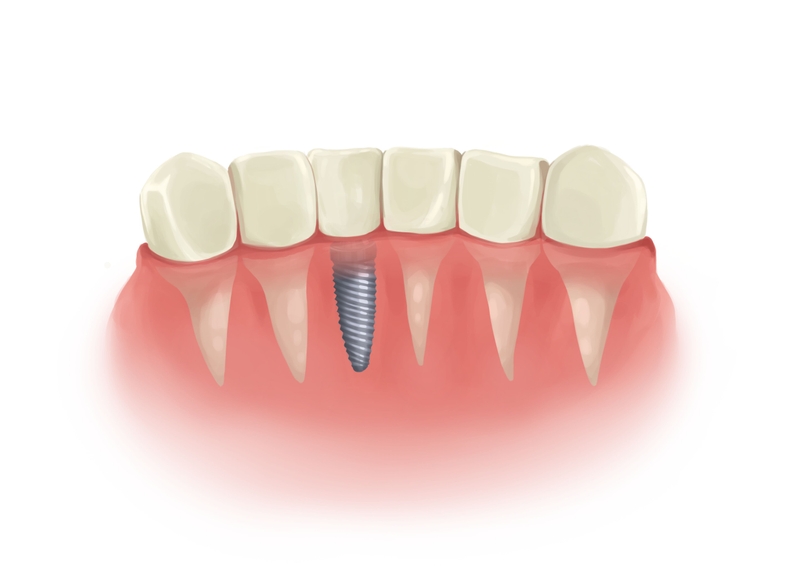 The first step in choosing dental insurance is deciding if you even need it. It can be very helpful to many people, but that's not always the case. Your dentist might offer other discounts or payment arrangements that make dental insurance not worth the money. You should compare how much the recommended treatment is to the premiums and cost-sharing you'll have with an insurance policy.
If you've decided that dental insurance is a good idea, there are a few things to compare among policies so you can choose the one that makes the most sense for your situation.
What are you wanting dental insurance for? If it's for dental implants, make sure they're covered by the policy you're considering. Plus, remember to read the fine print to make sure the implant will be covered in your unique situation.
A plan with a limit of $1,000 isn't likely to be very helpful considering one dental implant can be several thousand dollars. If you need any other treatment, you'll be well over the limit and the insurance will be useless.
What are the coinsurance or cost-sharing amounts? Many of the plans we discussed had incremental benefits. If you need major procedures right away, how much coverage will you really have? This is especially important if you're considering plan that has no coverage for major services in the first year.
Deductibles are typically not more than $100, but if you can find a plan that offers a $0 or $25 deductible for the same price as one that has a $100 deductible, it makes sense to pick the former. In addition, some policies do not apply the deductible to preventive care services.
Sign-up process & waiting period
Most plans allow you to enroll online these days, but some are easier to navigate than others. You'll want to pay close attention to the waiting period on these plans. Some only apply the waiting period to basic procedures and/or major services, while others even include preventative care.
There are also plans who waive the waiting period if you've had other dental insurance in place prior to enrollment, as long as there was no lapse in coverage.
Requirements & LEAT clause
There are two main requirements you should consider.
First is the missing tooth clause. This condition states that if the tooth was missing prior to the plan's effective date, the policy will not pay for any treatment used to replace the missing tooth. This clause is not seen as often anymore, but it does still exist and you should check for it, especially if you have any missing teeth.
The second clause has to do with insurance downgrades and is called the LEAT clause. LEAT stands for Least Expensive Alternative Treatment. In regards to replacing missing teeth - whether by an implant or a dental bridge - the plan could downgrade the treatment to a partial denture in some cases.
For example, let's say you're missing #29, but you are also missing #20. Each of these teeth are on the lower arch - one on the left and one on the right. Instead of paying for an implant or bridge on each side, your insurance is going to downgrade to a partial denture since you could have replaced both of those teeth with the denture. This can be a little confusing, but it is common practice across all insurance companies.
The plans on our list all have out-of-network benefits, but you'll pay less out-of-pocket costs if you use an in-network provider for your dental care. Insurance carriers use UCR (Usual, Customary, and Reasonable) fees to calculate their payments. If your primary care dentist or oral surgeon has higher than average fees, you might be responsible for a large portion you were not expecting.
Many carriers allow you to customize your policy. You can add extra benefits or remove ones you won't need. Any of these changes will impact your monthly premium.
We also mentioned you can add vision and/or hearing benefits to some of these plans. This is useful for those who do not have these benefits as part of their health insurance. For example, this is a common need among older adults who are on Medicare and only have medical insurance, which does not include many routine dental, vision, and hearing benefits.
Alternatives to dental implant insurance
Getting a dental insurance policy is not the smart choice for everyone. There are several alternatives you might want to consider before making a final decision about your dental coverage.
Dental Discount Plans are an option that are often overlooked. You pay a premium for these plans, but instead of any cost-sharing benefits, these plans just give you discounts. This can often save you at least 20% or more off of their normal charges. There are no limits, waiting periods, deductibles, or fine print in these plans, which make them very simple. They even work for cosmetic procedures and cover all pre-existing conditions.
Other alternatives can include cash-pay discounts, senior or military veteran discounts, or third-part financing. Your dental office will be able to tell you which of these options they have. Some even offer an in-house membership plan that typically includes a monthly membership fee in exchange for free cleanings and a discount on restorative work.
FAQ
How do you prove dental implants are medically necessary?
To prove a dental implant is medically necessary, your dentist will need to take an X-ray and write a narrative explaining why dental implant surgery is needed for proper oral health and overall health.
What does dental implant insurance typically exclude?
Dental insurance for implants often excludes implants for teeth that were previously missing and for other dental treatment that might be needed to place the implant such as bone grafts and sinus lifts.
Is paying for dental implant insurance worth it?
Dental insurance plans are not always worth it. You have to consider the premium, maximum benefits, cost-sharing amounts, and provider network. You'll also need to find out if the implant coverage will apply to your specific situation.